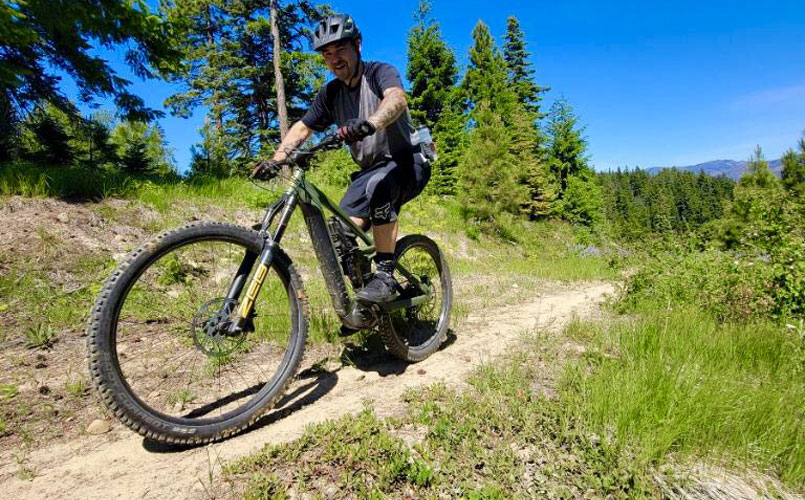 Owning a Product Design Firm – Bob Carrasca
We interviewed Bob Carrasca, the owner and founder of Pillar, about his motivations in starting his own product design firm and his life outside of the office. Read below to hear what he had to say.
Q: Tell us a little bit about yourself.
Bob: I enjoy snowboarding, hiking and being up in the mountains and being deep in the PNW forests designing, building, maintaining and riding mountain bike trails. In the winter, I can also be found riding powder at the local resorts in our state or sometimes in the back country, exploring deep in the Cascades.
I love the synergy that happens when you get a bunch of motivated individuals in the same room, all working towards a similar goal or objective. I like what can come out of blue sky development work and brainstorming sessions. Being surrounded by individuals that are the out-of-the-box type of intellectuals, really inspires me. I love collaborating on projects where you can break complex problems into smaller individual challenges to realize a viable solution. I work diligently to define the complex parameters, materials, manufacturing, engineering and ergonomic hurdles of every project. I gravitate towards individuals who enjoy working hard to meet a specific set of defined goals and/or objectives. Surrounding yourself with energetic, inspired and innovative individuals is why I wake up and go to work every day. Striking a balance between work and being outside, appreciating our local forests and surroundings is something that has been an essential part of my life for many years.
At both the K2 Corporation and Hasbro Toys, I started as a low level manager and worked up to a mid to upper program management position, developing new and innovative product lines. I have spent nearly 30+ years developing prototype and production supply chains both domestically in the US as well as in different regions of southern China.  
Q: Why did you decide to start your own product design firm? How many years has it been?
Bob: The main reason I started Pillar Product Design, was because I saw an opportunity where a number of single inventors and small start-ups just were not being properly supported by many of the medium to large size design firms in Seattle or the West Coast. I wanted to create a cradle to grave, full service design studio that could quickly handle changes and work efficiently to meet budget parameters often found with single inventor and small start-up businesses. Another major reason why I started Pillar Product Design was I wanted to develop a lean and agile system of design, engineering, and product development. I wanted a multi-disciplined team that developed a deep sense of collaboration, efficient work flows, and processes between team members. First and foremost, it was essential to have a team that enjoys working and having fun together. Secondly, each member of the team needed to be able to be the core expert in their specific field.  It was essential for me to have individuals on the team that have diverse, talented, and unique perspectives towards their work.  Each team member has an equal amount of input and influence on the over-all design development process. Each individual works closely and directly with our clients.  
My goal with Pillar design was to eliminate all interferences and inefficiencies that can come out of department silos and management barriers that hindered creativity and innovation throughout the product development process. This is what I had experienced while working within corporate entities in my past.
Q: Tell us about your background. Where did you work before Pillar?
Bob: I have been the principle owner of Pillar Product Design in West Seattle since Jan 2008. Prior to opening my own business, I worked for 25+ years in my field of expertise with multiple large corporations. I received a double degree, one Bachelor of Science in manufacturing management as well as an engineering degree with emphasis in polymer and composites science. I worked with corporations such as K2 Corporation and Hasbro for 12 to 14 years. I also worked with a local Washington based injection molding, manufacturing, tooling, and assembly house for 4 years.  I worked as a program manager and technical sales engineer a sub-contractor for large local companies like Precor, Genie Industries, Space Labs, Red Dot, Boeing, Ride, HO, and Sims Sports.    
Q: How has Pillar changed over the years?
Bob: The first 6 years of business, 2/3 of my business was single inventors and start-ups. Over the past 7 years, this has flip flopped and 2/3 of our business is now corporate entities. We still keep 1/3 or more of our business dedicated to assisting single inventors and start-ups. The shift in the business model became a necessity for the survival of the studio. The unpredictability in budget, scope creep, and project definition, combined with the client's lack of understanding of the product development process made it very difficult to develop quality products with tight budgetary constraints. It became clear that this was not sustainable from a practical sense and this direction put a lot of strain on both the team and the business. It was a must that we move our profits and income to a more predictable model by focusing our work, sales, and efforts more towards corporate clientele. Now we have a very good balance and sustainable business model that still assists start-ups in combination with the predictable work loads of our corporate clients. 
Q: How do you like to spend your time outside of work?
Bob: I can be found usually in 1 of 3 locations; at home with the family, in the woods with my mountain bike, or on snow, shredding some pow. 
Q: If you didn't own a product design firm, what would your dream job be?
Bob: First option would be a traveling, touring guitarist in an experimental band recording music. Or a forest gnome, building trails in the woods for mountain bikers. Both sound pretty good to me.