Star Wars AT-AT project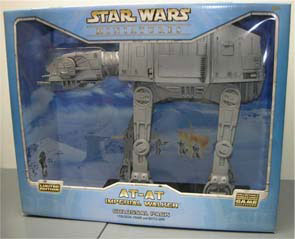 There is a super viral video out there by Patrick Boivin called AT-AT day afternoon. It is a brilliant piece of work which would bring happiness to anyone's day. I love the creativity and level quality put into this short clip. Inspiring indeed.
Back in 2006 before I started Pillar Product Design, I was working for Hasbro Toys and Wizards of the Coast, I had the opportunity to project manage and develop 1/10 scale Star Wars AT-AT walker with two very talented individuals Mark Goetz and Blake Beasley. This was my first product development project that I worked directly with Lucas Film. The product development and design was an intense process of information gathering scaling and 3D Solid Works model and clay sculpting work. This was a limited release of 1000 total replicas built. What always amazed me about these products was how consumers / fans would modified and manipulated these toys once the products hit the market. We would get pictures of some of the most amazing one off pieces that individuals poured hours into perfecting. They would take it to the next level, where we could'nt afford to take the product to this level of detail.