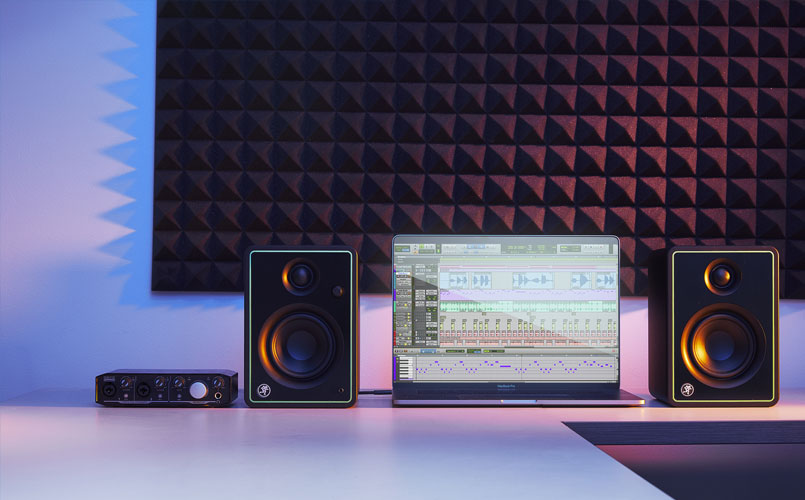 Collaborative Industrial Design – Mackie CR-X Series
The CR-X Series studio monitors are one of many products that Pillar has collaboratively designed with Mackie. Hear from Craig, a Mackie Product Manager, as he talks about the collaborative industrial design and product development process.
Pillar: Tell us a little bit about you and your product.
Craig: I've been at Mackie as a Product Manager for nearly 3 years, though have been in Product Management for 13 years total. 
The project we're discussing is the CR-X series of studio monitors.
CR-X monitors target content creators primarily, producers and audio engineers, but the line also appeals to folks like gamers and/or people working or otherwise computing from home.
As for CR-X's primary customer, home, office and editing suite content creation includes live streaming (incl. gaming), home music production, A4V (incl. YouTubers), and also telecommuting/entertainment uses (e.g. music/audio/video listening and real-time audio/video chat) and more.
With that, CR-Xs obviously want to live in every home, office or editing suite where music and audio are heard and/or mixed.
Pillar: How did you come up with your product idea?
Craig: As a refresh of our CR studio monitors, the project goal was to create an even better performing, more modern looking, and better selling expanded product line.  We wanted something versatile that would look the part in a studio/editing room and also fit into any home, gaming or office environment. 
Pillar: Why did you choose to work with a design firm?
Craig:  Our industrial design director Kent Swendseid has done many projects with Pillar before in the past.  Pillar understands our customers, our business needs, and how to design in the real world. Things that are quite rare in a lot of firms.   Also, they have a very inquisitive creative team that always delivers work above our expectations. 
Pillar: What was the most challenging part of the development process?
Craig:  Making sure our contract manufacturer understood explicitly the intent of the design.  Because of the flexibility of finishes and colors inherent in the design – not to mention limited edition customizations – we had to monitor every aspect of the development phase as the parts and pieces came to life.  You would not believe how many times the engineers tried to combine parts or talk us into solutions that would have jettisoned the flexibility of the design.
Pillar: Is there anything else you'd like to share?
Craig:  The employees at Pillar are fantastic!  We were truly amazed at the creative thought they put into the work they presented over the course of this project.  It was hard to make a decision sometimes because of the fantastic industrial design concepts and colorways they came up with!   The communication and transparency they provide for every project is always frictionless and down to earth.  The experience of working with Pillar is just fun.