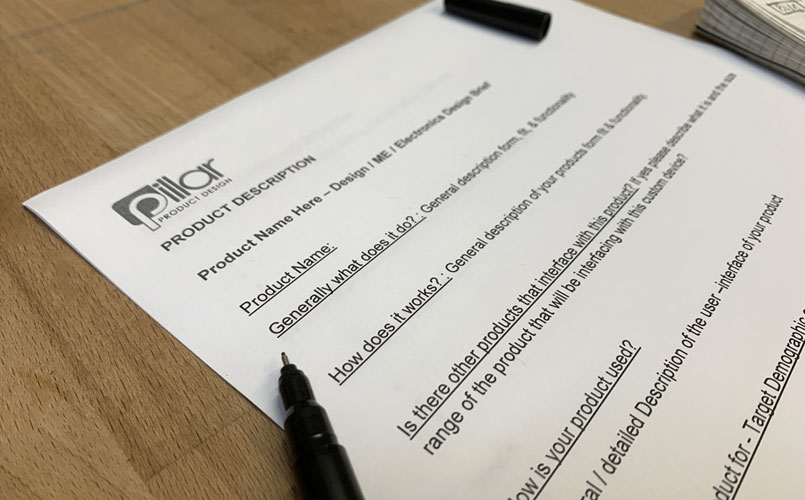 How to Write a Product Development Design Brief
A design brief is a document that outlines the functionality and details of a proposed product. It helps to focus in on the goals and objectives of a project and can be used to communicate those key elements to outside product development teams. We've included the questions we prefer for our clients to answer and include below.
Core Functionality and Requirements
The design brief should outline the general functionality of your product. You'll want to explain your vision for how the product will work and what the core features and functions are. Depending on where you are at in the development process, you may not know all of the specifics, but it is important to try and clearly articulate your goals, since this will be the jumping off point for development. A couple questions to answer:
What does it do?
How does it work?
How is it used?
What are the must have features? What are the nice to have features?
Identified Challenges
You are the expert on your product idea and have spent a considerable amount of time thinking through this product idea. At this point, you have most likely identifying potential pitfalls or problems. By highlighting any identified challenges or past iterations that didn't work, you provide your product development team with a head start that can save time and money by not repeating what didn't already work. See if you can describe your process so far and answer:
What have you tried so far?
What else would you like to try?
Are there any obstacles that you have found or are anticipating?
Target Demographic
Your target demographic is the group of users who will interact with your product. Identifying who they are and understanding their wants and needs will help you cater your product to their ideal experience, making your product more desirable. While it might be appealing to consider everyone as a potential user, a more targeted approach will reduce the number of compromises needed to meet everyone's needs. Questions to consider:
Describe your targeted user.
What is your user's age?
What is their income?
What are their expectations when it comes to quality and use?
Production Goals
You should have an idea of your production goals before getting too far into development. Understanding your costs, initial quantities, and timelines will help inform decisions that need to be made regarding your product's design and feasibility in the early stages. Start to focus on longer term goals by answering:
What is your targeted retail cost of goods? What is your targeted material cost of goods?
How do you plan to distribute your product?
What are your estimated first year quantities?
When will the product launch?
Looking for more guidance? Ask us for our design brief template.