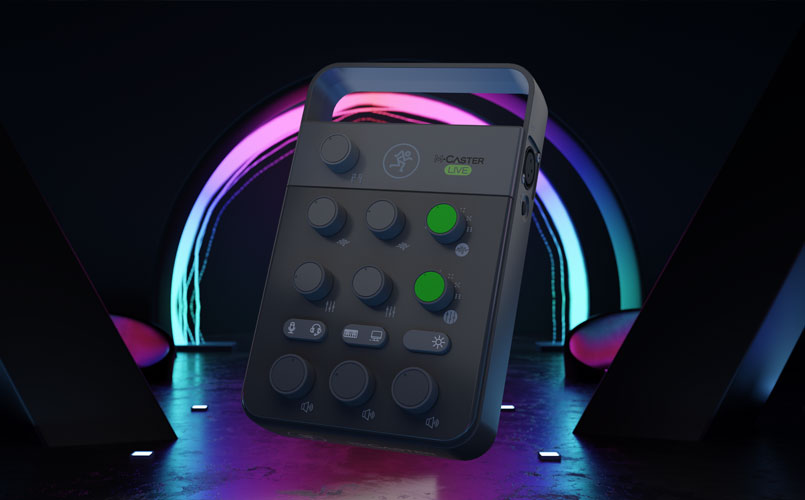 New Innovative Product – Mackie M.Caster Live
Last week in a live, virtual event held in conjunction with the NAMM tradeshow (National Association of Music Merchants), Mackie announced the launch of the M.Caster Live, a portable audio mixer for streaming and content creation. Alongside the M.Caster Live, they also announced their new innovative product line that features portable lighting and other creator accessories to make creating on the go breeze.
Mackie came to Pillar with the idea of creating a portable solution to help bloggers and other content creators improve their audio quality and control. Branching away from their typical client in the pro-audio space, the new device was designed to cater to the needs of social streamers, gamers, podcasters, DJs, and other creators and make the audio mixing experience more simple and affordable. To appeal to a different audience, the industrial design of the unit utilizes color, customizable lighting, and rounder forms that make the unit feel modern yet approachable and still relate to Mackie's extended line of products. Pillar also refined the user interface and control layout by grouping related inputs and controls together to help streamline the user's experience and provide a more intuitive process for first time users who may have be intimidated by large audio mixing equipment in the past. In order to target non-US markets, we created a symbol set for the buttons and inputs that eliminated the need for language specific text on the device, communicating button and input functions through a series of icons.
We have always enjoyed working with Mackie, developing the FreePlay and CR-X Series in previous years, and this project was no different. We can't wait to see how the M.Caster Live does in the market and to see what Mackie will bring to us next!