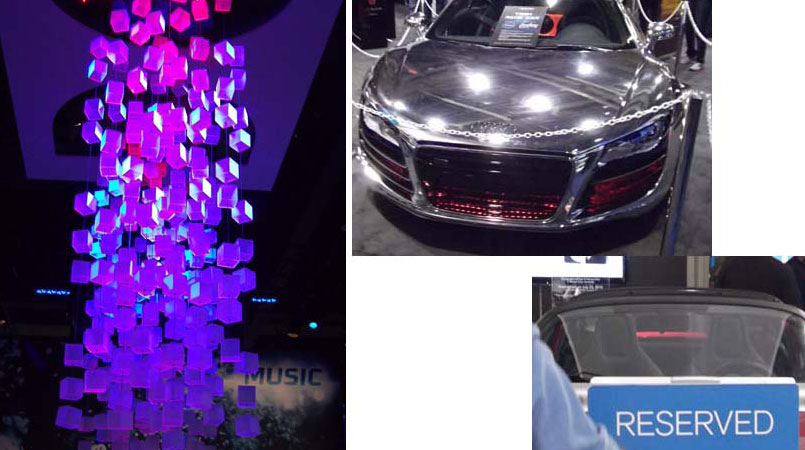 Pillar Product Design at CES 2011
The Seattle, WA based design firm Pillar Product Design has spent the last week at CES (consumer electronics show). CES is an amazing show that over 160K attendants over 4 days in the Las Vegas. The Pillar Team came across some interesting and innovative products and designs. Some of the highlights included the improvements to 3D TV and LED and LCD flat screen technology. This technology is getting more affordable better quality and less energy usage in most cases. The 3D TV without glasses was really fairly good. as compared to the prototype technology shown at last years show. The problem with 3D TV one is that the depth just is not there yet. The other issue as soon as you start moving off center from the 3D screen in front of you the 3Dquality becomes fuzzy and 3D reduces drastically. But it is the future and if this 3D technology to every going to make it into main stream it will need to be without glasses.
The second technology we found interesting was by Fulton Innovation. They have developed a wireless power system for smart grid electric vehicle charging stations. They boast a system that is more efficient, cost effective and safer than the traditional electric cord connection to charge your EV. The system is simplistic and they are making excellent end-roads into retrofitting their system into the current smart grid system. Wireless power means no broken unsafe cords, highly efficient power transfer and in-expensive adapters retrofit to any EV out on the market.
The third impressive technology by Intel was called "Bringing Your Games To Life". This technology is based on shape movement and pattern recognizing camera. This technology can be used on any flat surface. A portable camera faces on the surface in which you will be interfacing with. In this particular application the user would bring out a train or a truck or an airplane and the camera would recognize these key shapes and would bring up a list of projected unique icons for each shape. The user than with their hands moving across the flat surface create railroad tracks, roads or run ways in any direction shape or size. You can also pick up trees, houses, and other unique feature icons and pick and place onto the flat surface. Basically creating your own custom game board or game. The application far exceeds just gaming in application. The interface and ability to use your hands as tools and controls with in a digital format is very interesting and innovative.
From the audio product design front I was really impressed with Beats by Dr. Dre and 50 cent line of products. There gear looked polished and the line looked well thought out. Monster Cable has licensed with TRON and has some really futuristic designs. And of course the WESC line looked solid. Great color, textures and over-all capturing the 70's and 80's pre / post punk style.
After feeling like I climbed Mount Everest walking this huge and diverse trade show, I think next year I am going to pack my skate shoes.